369. AdDeed 3, generated by Lishmans llp, accountancy and strategic planning.
This is quite apt, and profound.
Our 100th Good Deed, on the 25th March 2020, was for a chap sick with covid and self isolating. I took him food. EthicalMuch was a side project then, I'd mostly been focusing on my art practice, and it was the sale of a painting that funded the food.
From that good deed came all the rest. So when the same chap got back in touch, asking for help with gas, so he could cook and warm the flat, it seemed like the perfect time to do our best.
Lishmans llp, our accountancy firm, and also patron of the arts, had already offered to generate some AdDeeds. So we spent £60 on food shopping, and £40 on gas, to give our chap the best Christmas possible. See our print magazine for the full story on these AdDeeds.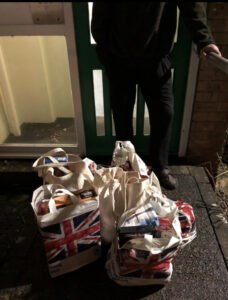 Previous Post
Next Post
---