Subscribe to EM! in print
It literally changes lives.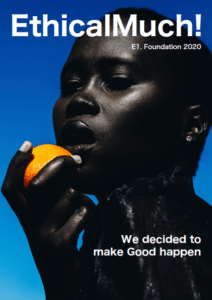 We use the subscriptions to change lives.
We feature the stories in the magazine.
The impact grows with every edition.
Every subscription makes more good happen.
A showcase of art and innovation.
Business and cultural intelligence.
In beautiful tactile print.
Changing lives.
Intelligence and Beauty. Words and Actions. Bound together. And delivered with impact.
You can ALSO register as an online content contributor.
Post news, views, and other content onto the EthicalMuch.com platform. Promote your ideas, your services, and your business. We read and approve each post before they go live.
Register as an online contributor below.
Register New Account
Members must be aged 13 or over. People under 13 can join the platform with the administration of a parent or guardian.
We don't store card details, they're processed through Stripe.

We don't collect or sell any data from members or users.

We send occasional emails with information relating to membership.
Please see email [email protected] if you have any questions not covered on the Q and A page.