A feel for Phnom Penh
It's a big city, a capital city, two million people. So that means there's a huge mix of everything. There's rich, there's poor, there's high rise hotels, and street level hovels, there's business, at all levels, buying, selling trading, many many people seem to do this. From street food sellers, to shops fronts, selling all manner of things, clothes, next to motorbike repairs, next to laundry, next to power tool refurbishing, next to cafe, next to wing money change and send, next to spa, next to motorbike hire and sales, and again and again and again.
There's pharmacy's, you go, buy medicine. Some can buy no prescription, other, must have.
The traffic will surprise you. Thousands of tuktuk and moto, swarming, and cars, very few traffic lights or traffic signs, quite a free for all, it seems to work fine, the traffic moves quickly, as quick as it can. Crossing the road can be a bit of a mission.
Most things are quite cheap, tuktuk, maybe $2, a meal, simple, maybe $2, maybe $4, drinks, add another $2 or $3. Some things more expensive, medicines, vitamins, these are more expensive than London.
In UK, cheap vitamins, 1 a day, could be £1. Here, not less than $5.
It's hot, I'm here in the 'rainy season'. This is relative. It's 'rained' on perhaps three days out of 7 so far, mostly light showers, a couple of thunder storms in the nighttime.
It's around 32c , sunny, slightly overcast. I google the weather and it looks like this:
In truth, it looks like this: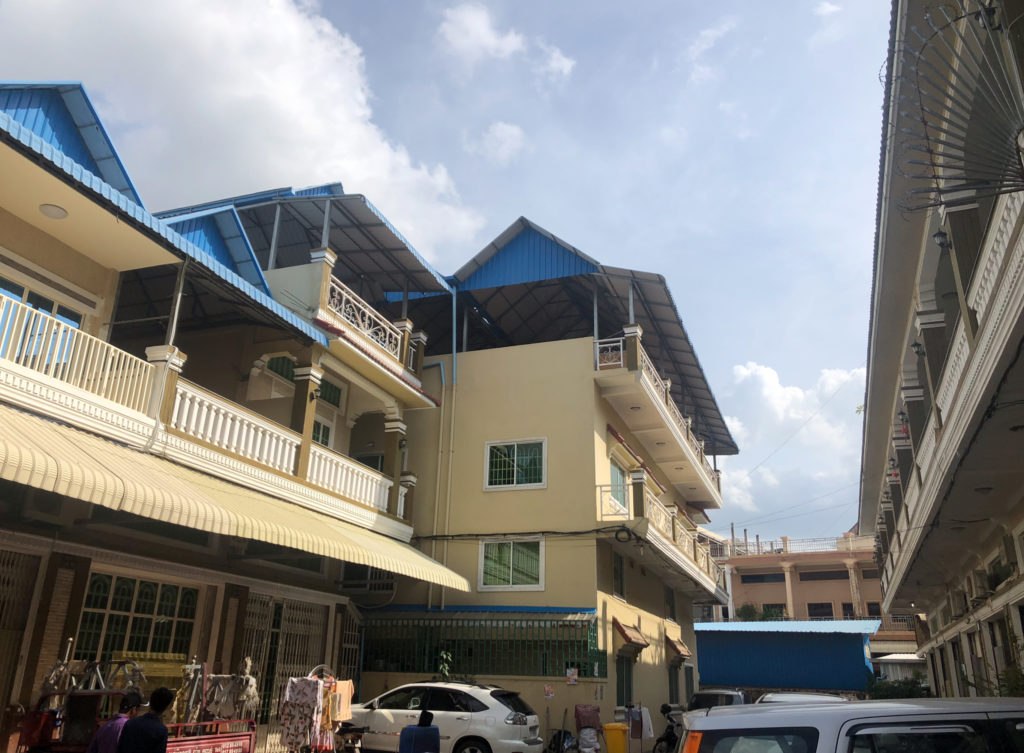 The rainy season here, at least now, in October, is like an excellent British summer. Hot, sunny, you'll be grateful of the few showers you receive. Perhaps an electrical storm at night, for excitement. That's my experience at least. It would be easy to be put off by google weather forecast, showing constant rain. It's simply not representative of the actual reality on the ground.
The hot season, April especially, is probably too hot for visitors. I'll find out more from the friends here, regarding the truth of the seasons, and so on.
I've seen and experienced no crime, one friend here said she had he bag snatched from her on a moto, a few years ago, at night. She's a local, could happen to anyone anywhere. Feels safer than London, for example. Statistically, probably is.
The food, I suggest easing ones self into it. My hotel, Orussey One, is very good, and the food has totally agreed with me. The bao from reception, steamed to order, are one of the tastiest things I've ever eaten, and quite familiar, pork meats, seasoning, egg, tomato, rice flour.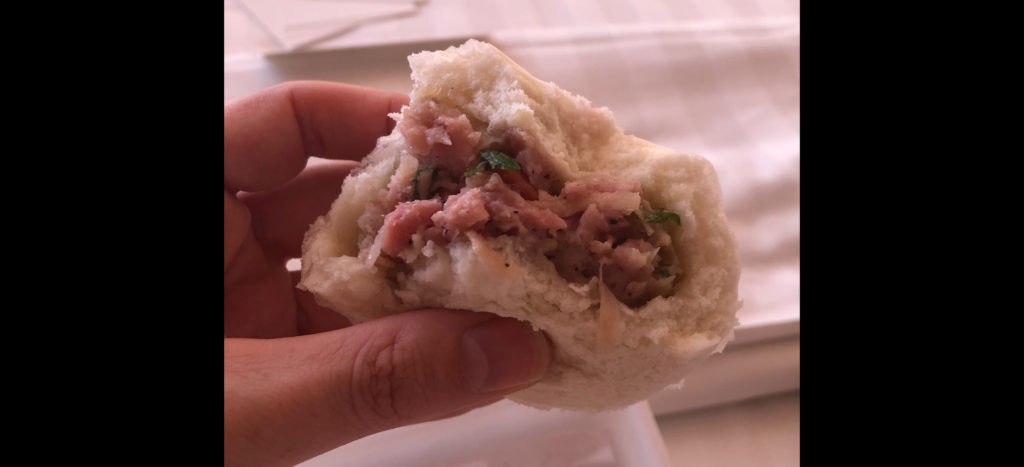 I suggest not eating any street food. It would be a gamble, and you probably don't want to get ill here. I brought a bag of charcoal capsules, and often eat one with a meal, and have taken Imodium a coupe of times as precautionary measure only.
A typical and simple restaurant / cafe meal might look like this, at lunch time.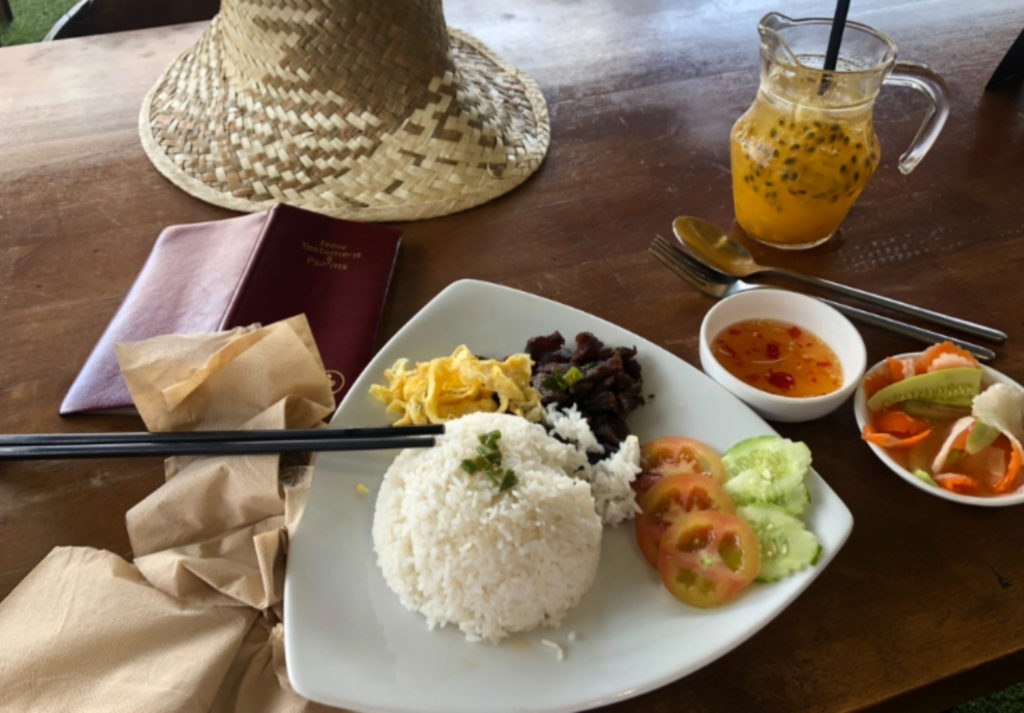 Rice, fried pork belly, omelette, pickled vegetables, sweet chilli, the food cost 8000 Rial, there being 4000 to the dollar. The drink was probably another $2.5 and the coffee I took out, another $2. If only eating the food, $2. Coffee and passion fruit drinks would of course be mostly for the visitors.
I tend to not eat the salad bits, just to be on the sage side, probably OK, but probably washed in tap water, so maybe not. I wouldn't eat lettuce leaves, for example, with a large exposed surface area. I may just be being overly careful, but perhaps not, it makes sense to be mindful of these things.
Sunglasses are a good idea, I need to buy some replacements, the ones I brought from the UK have broken. Maybe I can get them fixed.
A hat, good idea. From a street stall. $1.
Ahhh markets. There's many markets, indoors and outdoors, daytime and nighttime. Well worth an explore. Some are wholesale, people travel from the provinces, buy things, go back to province and sell. Very self generating and entrepreneurial culture.
This market, I think they call it Russian market. Very hot, narrow, easy to get lost in, food, clothes, maybe a moto will drive in, fish, live produce, snails, fish, frogs, feels extraordinary to the western visitor, it is, of course, totally ordinary for the local people. Many shop here, cheaper than supermarkets. It's the normal place to buy things.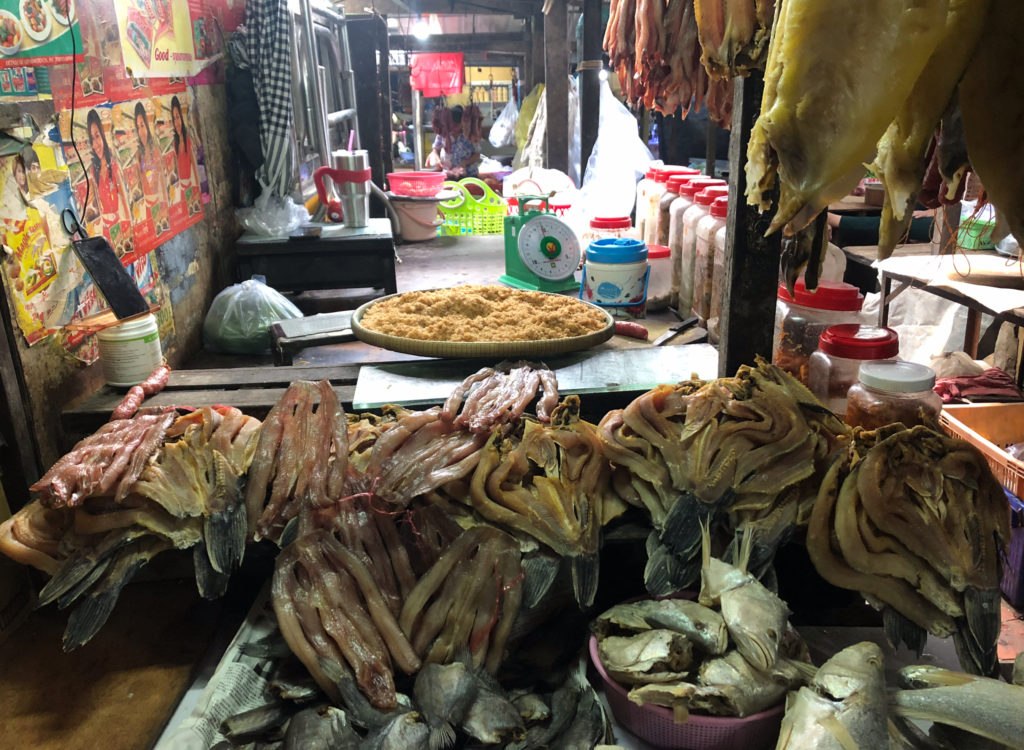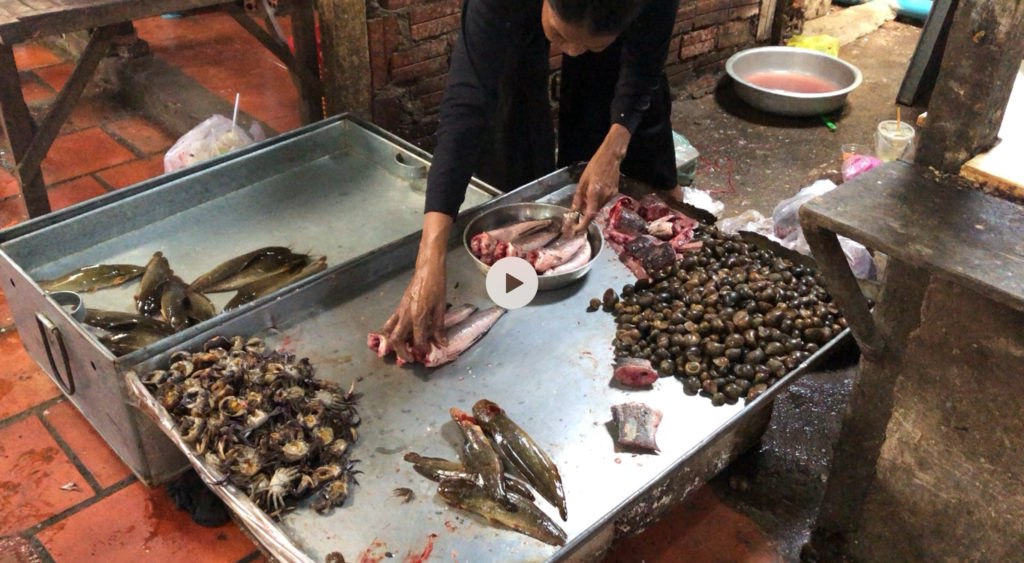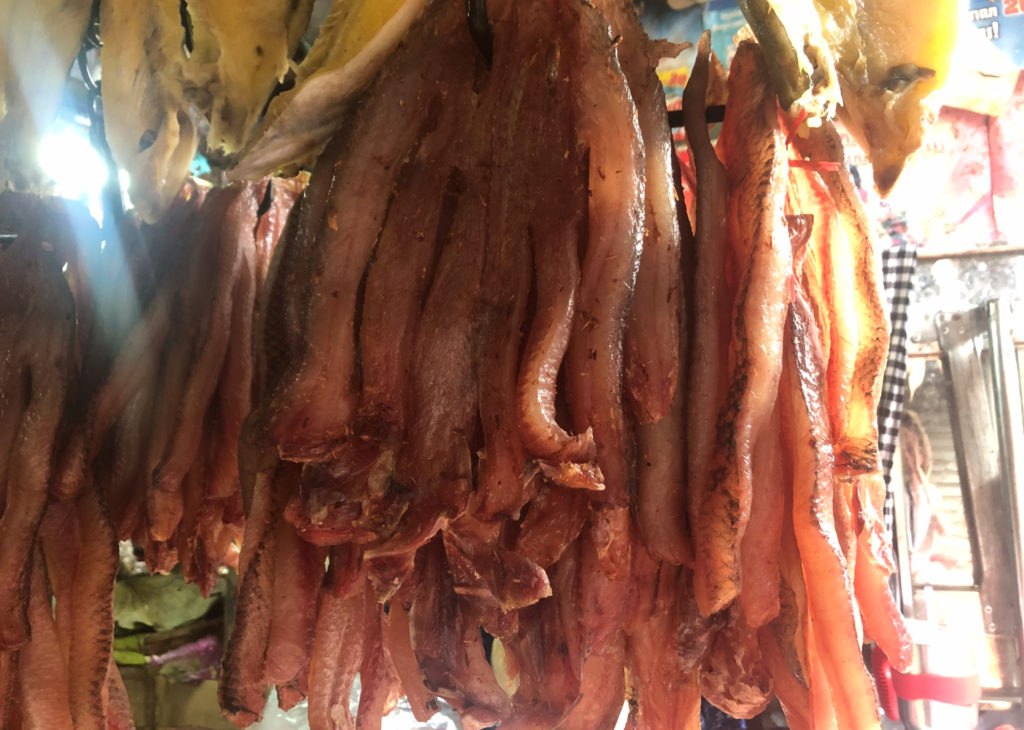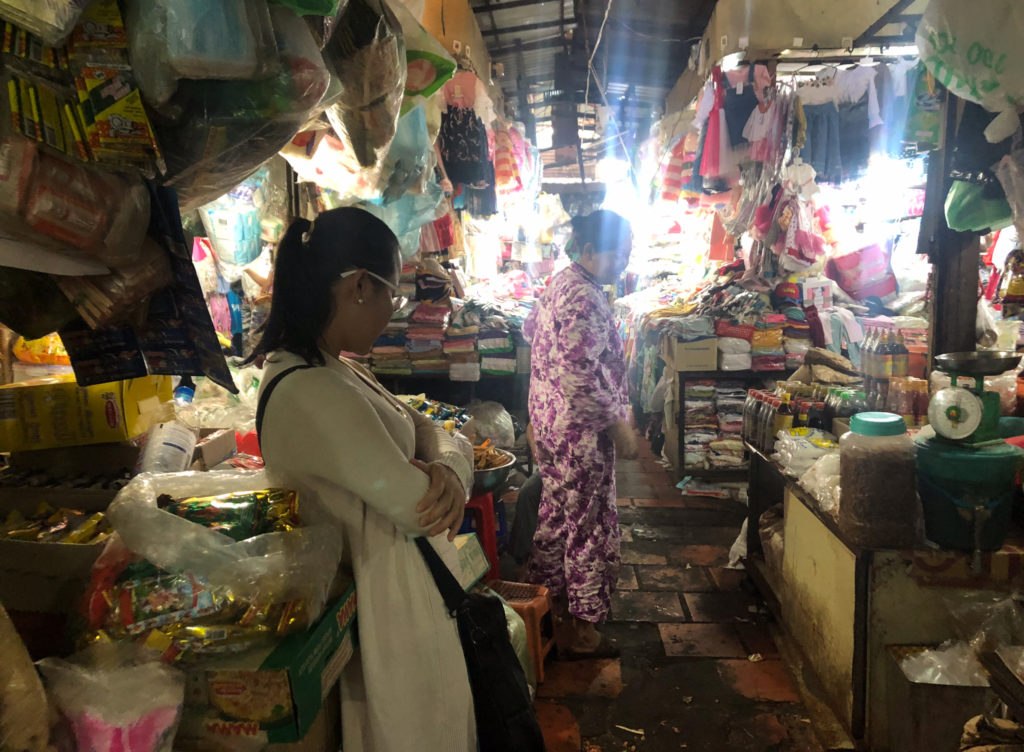 I also find the place very beautiful at night.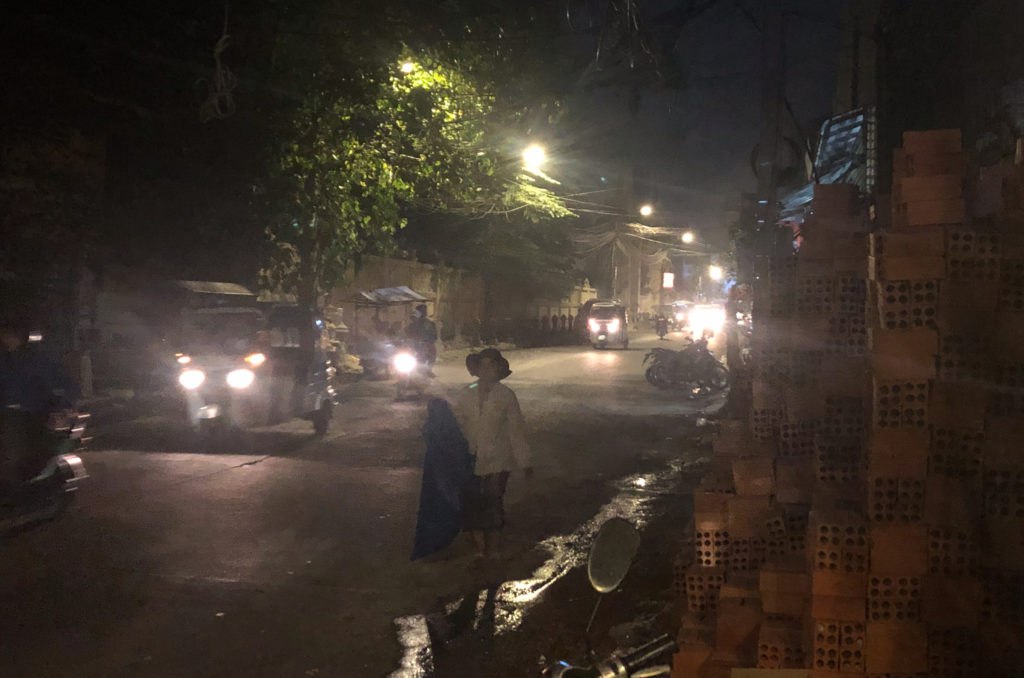 That's enough for one post, I hope you get a feel for the place. Will post more, later.
Previous Post
Next Post
---