388. Big snow fall, but we managed to reach this chap.
It was Tuesday 3rd Feb and it dropped half a foot of snow. There was no way to actually do any deliveries. Then a friend who is in a support bubble offered to help in his Landrover, one of the old ones with huge tyres. So we were able to reach this housebound chap, and the chap with the crutches, who both live on the same estate.
No cost, STC food parcel.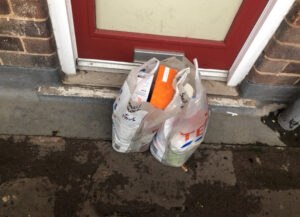 Previous Post
Next Post
---