322. New chap gets in touch
Four months after delivering one of our cards to a small block of flats, one of the residents phoned. A chap in his later years, he didn't know how to text, so he called us, and asked if we were still dong food parcels. It's amazing, it's at least four months ago since we put cards through peoples doors, and he'd kept the card for when he was really in need.
I don't think he'd been out of the flat since then. We took him what he asked for, just basics, and have added him to our supported person list, so we will be back in touch, and will keep in touch, and make sure he has everything he needs.
He asked how much he owed us, I told him there was no charge. He wanted to give a few pounds for a charity tin, but I told him really, there's no need, and to keep him money, He said we were a God send. And it moved me. Because it's true.
Funded by Ursula £5.38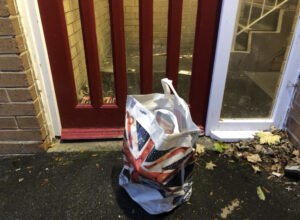 Previous Post
Next Post
---