428. Met an elderly lady, decided to take her some flowers
Just happened to get chatting to her whilst out on my rounds, she's elderly, not in poverty, but a bit lonely, and just unsure of the World. I thought to buy her a nice bunch of flowers, and delivered them to her. She didn't remember me, but I reminded her of our first meet, and we just chatted for a while, and she told me a few stories of her life.
EthicalMuch isn't just about food parcels, it's our bread and butter at the moment, but as we expand, as more people get involved, as more subscribers subscribe, we can diversify into doing any acts of kindness, from a bunch of flowers to … anything you can think of. And we will be giving our subscribers access to the good deed fund, so they themselves can use the subscriber fund to do good with. That's the vision.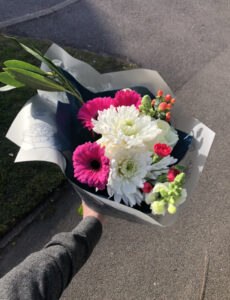 Previous Post
Next Post
---