17. To a 58 year old women, a bicycle
On July 08, 2021, EMC donated a bicycle to one family at Kompong Thom province. Her name is  Mun Ratha , a 58 year old widow with a child, 15 year old son. She is an irregular labourer. She is currently guard at home for neighbours for exchange rice and food for daily living. She is very happy to have a bicycle for her son for school ride.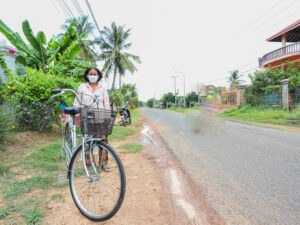 Thank you very much to the donor for supporting EMC through EM UK.
£50 funded by Max.
Previous Post
Next Post
---