Ecclesall Garage are totally fantastic!
"I wonder when my MOT is due… I'll check and see… It's due… TODAY!
I drive a 1999 Mercedes I bought for less than the cost of 30 food parcels so the MOT is life or death for the vehicle. I jump in and drive around, looking for a garage that isn't going to ruin my week. I pop into a few, they can't book me in for days… and then remember there's some sort of garage at the top of Murray Rd, at the very top, and I wonder if they could maybe help…?
And that's how I discovered what I think is the best garage in Sheffield. For starters, Dave is a classic car collector and has several, so he's sympathetic towards my oldie. Secondly, I get the distinct impression he's really good at his job, it's his passion, he restores cars, and tucked away in the unlikely looking garage is a classic Lamborghini and a couple of Maserati undergoing loving restoration.
After a pretty thorough look over and under my humble offering, his right hand man (and nephew) Liam takes my car to the centre they use for testing and he'll be back when it's done. I spend a little time chatting with Dave then let him get to work as I go for lunch with all the tension of someone waiting to hear if they're going to still have a car or not in an hour's time.
As I stroll back to the garage Liam drives up. Fantastically good news, it's passed:) I'm seriously pleased, and only £50 lighter. Dave tells me some garages charge as little as £25 for an MOT but make up for it with a few hundred, or thousand, quid's worth of perhaps dubious repairs. No such shenanigans here. And a couple of weeks later, when a headlight bulb went, they fitted a new one and didn't even charge.
When you're choosing a garage it's all about trust. And I trust these guys. You can just tell they're genuine.
They're also a Which? Trusted Trader, and out of the 27 reviews 100% give them Five Stars. So it seems like I'm not the only one to have discovered this little gem. Give them a call or drop in. The numbers on the sign, and the website, which clearly they don't rely on.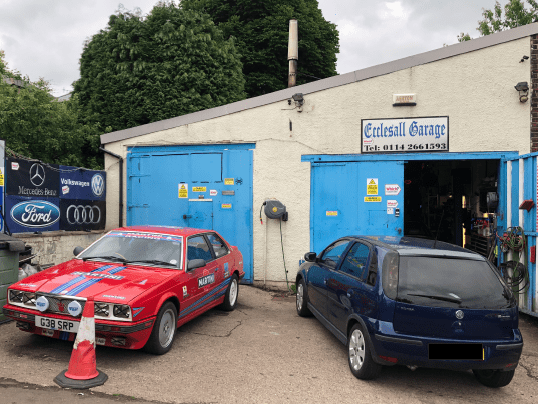 This is a true story, and Ecclesall Garage also kindly contributed £100 to the running of EthicalMuch.
Previous Post
Next Post
---