12. To 39 years old garbage collector at garbage dump
Chan Rathana, 39 years old, she has 4 family members. She doesn't have a business rather than garbage collector at garbage dump. She is living nearby garbage dump area in Phnom Penh. Her family scramble and collect garbage everywhere for survival, especially in an outskirt landfill. The four members must earn a living including her two sons.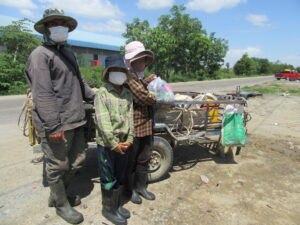 They can earn an income around $ 10 – $ 15 per day. They need to get up early morning (6AM) and back home at night (8PM) in order to earn such amount of money. She is struggling with her daily expense as it is a tough time in the present. So, in average one person can earn​​ money $ 2.50 per day.
One of three funded by Max from purchase of artwork for £50.
Previous Post
Next Post
---