Compassions Project
The Compassion Project is a personal project of the artist Bird Lovegod, co founder of EthicalMuch.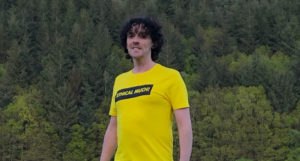 "Ahhh, hello friend. You've followed the link I sent, thank you. Here's the Compassions project, in my own words."
I've had a fair bit of experience in business, but at heart I'm definitely an artist. Sometimes I combine the two. EthicalMuch is a bit like that. But here, I'd like to talk about Art. A new kind of art.
Humanitarian Intervention Art. It's been a practice of mine, on and off, for a decade or more now. Whilst at art school, in 2011, I produced a book of 100 Good Deeds, each one sponsored by businesses, and actioned by myself. Here's the opening pages. Very interesting reading, if I do say so myself.
Here's a link to that: https://www.scribd.com/document/101115200/1-Introduction-1-100-Book-DONE
You might like to see some of my paintings and street art from the same era, here https://www.scribd.com/document/101115094/Gallery-and-Catalogue
So, back to the present, this Humanitarian Intervention Art project… I'm calling it Compassions. I'd like it to be the beginning of the rest of my life's work.
Here's some starter questions…
Is it possible to intervene personally to assist people in poverty?
Is it possible to do humanitarian interventions in this way? Personally, and creatively. And effectively.
Is it possible to change lives, for good, just by setting out with the intention to do so?
Is it possible even to save a life, by setting out with the intention to do so?
There's many more that the project addresses, including some really hard ones around money. I've written a few articles on Oscar Schindler, and his use of money to buy the lives of people, literally, buying them to save them, and there's also a huge Christian angle to this, Christ giving his life to somehow 'buy' our freedom and lives … It's very challenging and complex and as art the only way for me to explore these issues is practically in action coupled with considered writings. Also, I think it's time for art to be more proactive, typically art, and journalism, they document, but they stand aside. I want to get involved. Hence the interventions. Humanitarian Interventions.
When I return I'll be creating and selling artworks, paintings, and so forth. The revenue from sales will be used to fund the next round of compassions.
If someone buy as painting, for £3000, for example, and £1500 is used to transform the life of a third party, documented, what is it the person is really buying?
The subjects future? The intervention? Change? The material artwork is what? A momento? A visual placeholder? A reminder of the power we have, to transform dark to light, and suffering to life?
Some paintings sell for the price of a hospital. Art is fascinating. People are.
There's also the comparison with charity, or rather, structured Charities, the way they operate. Are these Compassions the most streamlined version of Charity, with just three moving parts, the giver, the doer, the receiver? That's for another essay. And what is the function of art? And can art be used as a means of change? Is transformation central to the artistic process?
Here's the Compassions project outline in brief:
I travel to Cambodia for two weeks on October 1st this year. I've made some contacts over there, from small charities, one of which works with prisoners and their families. Another works with people who are chronically ill and near end of life. They'll help make introductions.
The intention is to meet with individuals and families for whom a lasting and impactful positive change can be made. I've raised some money for the project (around £1600) for this effect. I'll spend time getting to know people, and the situations, and see what can be done.
I'm interested to visit the slums, and understand the reality of the situation. I'll use the money to effect change in peoples lives, as best as I can. Each Compassion will have a budget of between £100 and £500. I'll document the journey and process, in writing, and photography, and sketches, and film. I'll also create some artworks whilst there. I have some very interesting ideas for this, and will reveal them in due course.
On return I'll produce a hardback book, Compassions One, of the journey and experience, each Compassion being a chapter. I expect a first edition print run of 100. I'll self publish. I'll send the books to the people who have already pre ordered them. And keep selling them until they are sold out. I'll also create a mini film from the footage taken.
I'll also create artworks for an exhibition. (I have some nice ideas for this.) The sale of the books and the artworks will fund the next journey and next round of Compassions. And so the process is cyclical and I'll repeat it. The aim is to change lives, create a series of books, and build an art practice of Humanitarian Interventions.
Thank you for your interest in this process and project. If you've pre ordered one of the books, on approval, thank you, you'll receive regular emails updating you on the progress and journey, prior to leaving, and whilst I'm there.
As well as pre-ordering one of the books, you can, if you like, donate to Compassions project via GoFundMe
PS Here's a bit of Street Art, from 2008 …. the image is actually a photo of a page in The Good Deed Book, from 2011.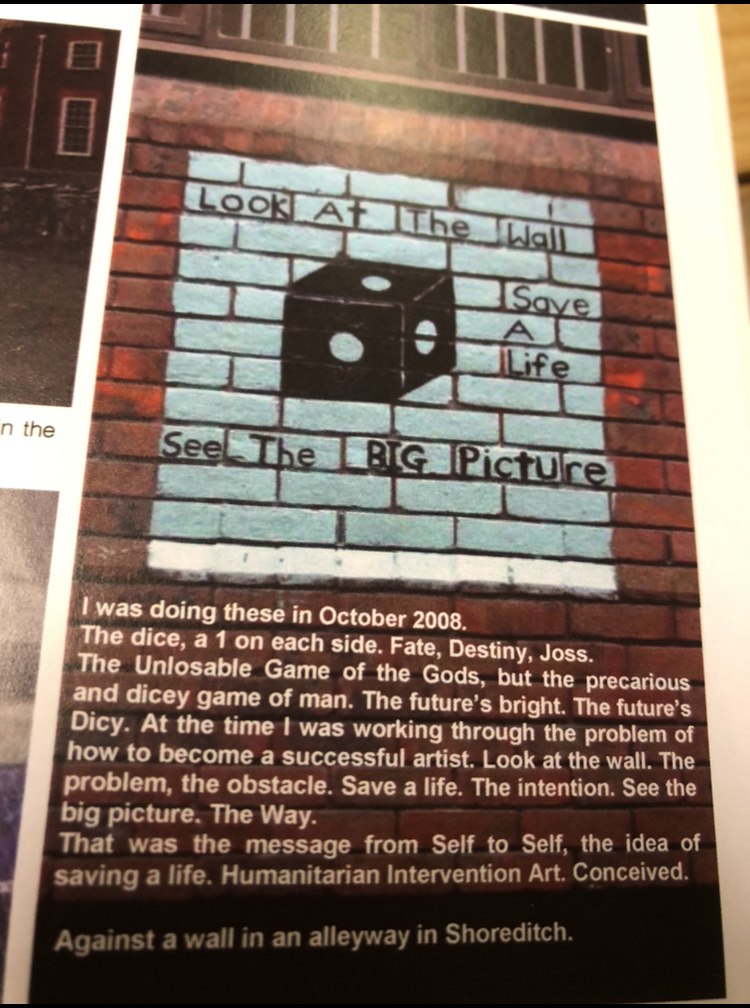 Such is being an artist, we see no walls, even as we paint our dreams upon them.
Thank you again,
Bird